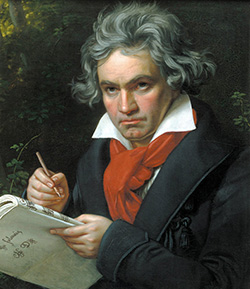 For some, composing music involves sitting alone in a room, sometimes with a piano, tapping into some corner of TheMysticalUniverseOfSound and pouring it onto the page. The idealized images of Beethoven ThinkingDeepThoughts are just that--idealized images.
Ludwig's sketchbooks are revealing, demonstrating the distance between his initial ideas and finished products. I've done my share of this sort of composing, and it can be grinding work; very satisfying once completed, to be certain, but it is a slog in the middle of the process. It's well,
lonely
, three minutes into that seven-minute piece. Minute seven may be days away, and there's no way out but forward.
I therefore
love
to collaborate--with other composers, with conductors, poets, performers, publishers. I prefer to write with a goal in mind, and with people who have clear goals. Sometimes, they give me an idea of what they have in mind; other times, the roles reverse.
One of those long-time collaborations is in the arena of American Protestant church music with
Benjamin Harlan
.
If you have sung in a Protestant church choir in the past quarter-century, odds are you have sung his music. His resume includes the dean's chair in the music school of Southwestern Baptist Theological Seminary, head of music ministries for the Louisiana Baptist Convention, and hundreds of works published. He's an inspiring choral conductor, teacher, and one of the jolliest souls one could ever hope to meet.
He
definitely
has a goal--to restore hymns back to congregations in the pews. The wholesale post-modern experiment that ditched the hymnal in favor of Powerpoint and 'praise music' (whatever
that
is...) has been a dismal failure. Benjie has labored mightily these past several years to create a body of work that restores sanity, crafting versions of the standard hymnody that encourage the people in the pews to sing again, with the choir and instrumentalists in a supporting role. He writes, he publishes, he travels, he conducts, he teaches. He releases a new collection of hymns every year. If you wish to purchase a copy for your church, he'll make it available. More than anything, though, he wants to talk with you, not just sell you something.
Email him here to begin the conversation.
His goal is one I share, thus the years of work together. Along the way, we together created a library of orchestrations to enhance a selection of the arrangements. I hear reports from all corners that these collaborations work well, and it brings joy to the heart.
If you're interested in knowing more, email Benjie at the link above, or leave word below. I don't just want to sell you stuff either--the publishers have made an art of that, and look where it got us. I want to talk to you as well, as I know that the conductor, the musicians and the congregation are all part of the collaboration that makes these pieces succeed so well.